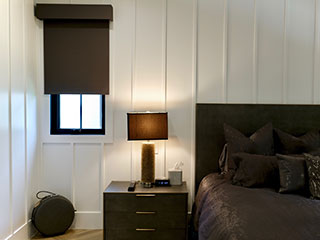 Privacy and creating ideal sleeping conditions are two things that blackout blinds provide in spectacular fashion. The idea behind these room darkening window treatments is to optimize your use of light and darkness in bedrooms, office spaces, and anywhere else where you need privacy or darkness at your beck and call. Choosing to get blackout blinds custom made for San Diego bedrooms, TV dens, and office spaces will provide your property with excellent lighting control. These blinds work great for offices, as no one can see inside. And for bedrooms, blackout blinds block all light from the outside. Whether it's streetlamps or early morning sunlight, your sleep will remain uninterrupted until the alarm goes off.
What Do Blackout Blinds Do?
The thing that distinguished blackout window treatments from regular blinds is the ability to create total darkness. Blackout blinds achieve this by not allowing even the smallest sliver of light to pass through gaps or slits between their vanes. Even small amounts of light entering the room while you're asleep can cause you to wake up or drift in and out of sleep. Besides making you groggy, bad sleep leads to all sorts of negative health effects, so to say it's hugely important would be an understatement. Therefore, getting blackout blinds installed in your San Diego bedroom can offer you an excellent solution. The blinds will prevent early morning sunlight or streetlamps from waking you up or disturbing your sleep in any way.
How Do Blackout Blinds Work?
The common structure of blinds often leaves some tiny gaps between the vanes. Not so with blackout blinds. These room darkening window treatments have an overlapping build. Meaning, the vanes slightly cover each other, thus creating a complete barrier for sunlight, much like drapes. Blackout curtains are another popular option, though one with less versatile exposure options. The benefit of blackout blinds vs curtains is the ability to adjust the level of light that enters, with the use of the vanes. So blackout blinds can block sunlight off completely, or allow it to stream inside at different degrees. You determine how much, and when.
Motorized Blackout Window Coverings
An excellent feature to add to blinds, blackout or sheer, is remote control options. Motorized blackout blinds give San Diego homes and businesses effective window covering automation methods. Already got in bed and just remembered you didn't draw the blinds? Not a problem. One push of a button and your motorized blackout blinds will seal off the world without you having to get up. The same goes for the opposite scenario, where you lie in bed in the morning and want a little more sunlight to enter and help you wake up. From brightness sensors to temperature monitoring, you can have motorized blackout blinds that automatically adjust according to set parameters.
Why Get Custom Made Blinds
It's always a good idea to get window coverings made-to-measure. But with blackout blinds, custom made solutions become even more important. You want the blackout blinds to do their job properly, so you need to ensure they match the size of the window frame perfectly. Get help from our local blackout blinds experts in San Diego and see all the available options you can go for. From motorized blinds to blackout draperies to all sorts of shutters and more. Our blackout blinds selection has solutions for any need and budget. Schedule your free estimate and get in-person consultation on any blackout window treatments for homes, businesses, or other!