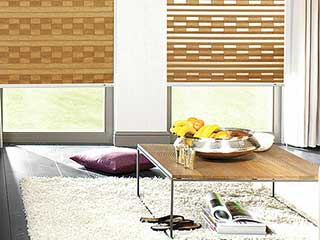 With light filtering sheer shades, you'll be able to maintain a pleasant and cozy indoor environment, while also having the option to add more privacy to the room whenever you want. The high customizability of these window coverings makes them excellent for all sorts of rooms, with a particular emphasis on living rooms and kitchens.
Versatility in Action
Sheer shades with vanes usually have three different settings. You can raise them up completely to let in as much sunlight as possible, but that also means reduced glare and UV protection. You lower them with the vanes open to create a diffusion of sunlight that will allow light in but will also provide some privacy and glare reduction. And of course, you can have the sheer shades completely closed, slats included, for the highest rate of privacy and sun protection they allow. While these are technically three different states, there's plenty of variation in between them, and you can adjust the shades as you see fit until they're in the exact position you like.
Adding Some Color Tinge
Because sheer shades' main purpose is to provide light filtering and allow you to make full use of the sun to brighten up the room, they create a lot of possible décor enhancements. Their fabric can be made with a range of colors in mind, not only white, which will give the filtered sunlight a twinge of color that can significantly contribute to the vibe and atmosphere of the room.
Custom Made Room Darkening Sheer Shades
While other types of window coverings may be better at achieving complete blackout conditions, you can have your sheer shades possess the option to not only brighten a room, but darken it as well. It all depends on the choice of material and color, and how well the covers fit the windows. To ensure you get the best product possible, contact Motorized Blinds & Shades San Diego for a free, expert consultation that will help you get the best results.