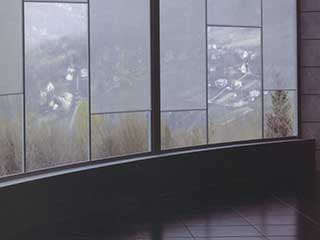 If you want your window coverings to be as beautiful, durable, and functional as they possibly can be, you've come to the right place. Our team of experts at Motorized Blinds & Shades San Diego is your first port of call when you're trying to shop for quality window treatments for your business. Here's what our services entail.
Our Top Picks
Experience your workplace in a completely new light with some of our top products. Here are some of the most popular picks from our collection:
Solar shades
A great choice for rooms with a lot of sun exposure, solar shades offer exceptional light control while still preserving that sleek, modern look. They come in a range of fabrics, colors and patterns that will make your patio, sunroom, or any other exposed interior look sophisticated and modern.
Sheer shades
Multifunctional and delicate yet luxurious and lightweight, sheer shades offer great light control and a sophisticated look that will refresh your interior.
Faux wood
Lighter, less expensive, and more durable than real wood, these are a perfect pick for business owners looking to add style and functionality to their inferior without breaking the bank. Available in a variety of color options and patterns, including solid colors resembling the look of real wood, the sky is your only limit when trying to customize faux wood blinds to match your decor.
Full Control at Your Fingertips
Our experts can recommend motorized window coverings that bring comfort and convenience to a whole new level. Maybe you're looking for a remote solution for your high-reaching windows or want to program your blinds to adjust automatically when you need them to. Either way, our team will explain the benefits of motorized solutions and help you get a grasp of their functionality so that you're fully confident in the product you're buying.
Consultation Services You Can Trust
Our experts are only a call away and will help you take the right measurements of your windows so as to narrow down the quest for your perfect solution. Let us help you find the best, most affordable window treatment that will fit right in your decor. If you're looking to customize your treatment, we'll bring in some free color swatches so that you can envision how each color would complement your ambiance.
You just can't go wrong with quality blinds, shades and drapes. Control the privacy in your office and add a touch of elegance with our wide range of products. Make use of our free consultations to find the perfect pick for your needs and budget.