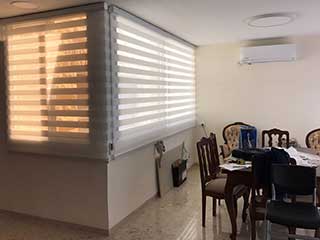 Fitted for any window and available in a long list of colors, designs, and styles, our motorized shades are the perfect accessory for any local home or business. Almost any type of shades can be automated, and the benefits that come along with it are greater than you may have realized up until now!
Why Get Motorized Shades?
Smart window coverings may sound like an extravagant expense, but over time they can actually save you money! People forget to adjust their shades sometimes. This is unavoidable especially in larger buildings, and the consequences can include faded furniture and needless use of air conditioning or heating to readjust the indoor temperature. Moving your shades a couple times a day is far less energy intensive than extra heating or cooling in the room. Your electric bill and furniture expenses will end up thanking you!
Greater Child Safety
More importantly for residential establishments or businesses such as pediatric clinics, nurseries, and daycares, the cords of hand-drawn shades are a notorious choking and strangulation hazard for small children. If you have wee ones, an automated system that works by timer or remote will save you a large amount of anxiety, and could possibly prevent a tragedy. It isn't a chance any parent should take!
All Sorts Of Shades
Nearly any type of vertically mobile shades can be motorized, from simple fabric roller screens to elaborated pleated, paneled, or bamboo curtain variants. Our products are custom made to fit windows of almost any size and dimensions, and they are available in a variety of colors, patterns, and other aesthetic details. Roman shades? Honeycomb pattern screens? Layered window coverings? All these are compatible with the electric motors and smart control systems.
Pick Your Shades Now
Our inventory is all available for your perusal here on our site, and questions about custom-made drapes and installation at the address of your choice can be answered with a single phone call. Contact us today!