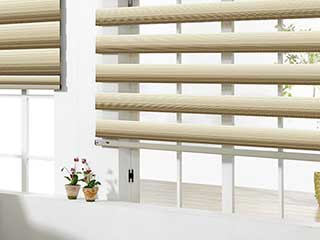 What Are Real Wood Blinds?
Traditionally all blinds were made of horizontal wooden slats joined together by corded pulleys. Today they are made from high-quality hardwood, with slats ranging from 1" to 2.5", stained in a range of colors that provide the room with a classic, warm and natural look. They can have a cordless lift, be routeless, include continuous cord loop controls, have cloth tapes or even accented with a fabric valance or a cornice for added sophistication.
The Pros Of Wood Blinds
They are the ultimate Venetian blinds and the best for privacy and light control. When fully raised you have a full view of the outside. When lowered, all sunlight is blocked and the inside is obscured from the outside. The slats can also be rotated and privacy controlled. They offer the greatest flexibility in terms of finish, with boundless ranges of shades of varnish and stains, and the optional matte or gloss paint. Therefore, they can be matched to the existing wooden décor of a room or add style and richness to spaces that luck the desired finish. You can additionally get the blinds custom made-to-measure by choosing the width and drop, and the width of the slats. Just be aware that wide slat wooden blinds have a smaller stack height, since there are fewer slats in their design.
The Cons Of Wood Blinds
There are a number of disadvantages to wooden blinds due to the natural material they are made from. They are not ideal in humid climates or environments (such as bathrooms or above the kitchen sinks), as the moisture in the air will warp the slats. They are heavier than other products and therefore should not be installed on larger windows, as breakage can occur. Real wood blinds are also more expensive than similar synthetic materials such as faux wood.
Call Us Today and Book an Appointment
Motorized Blinds & Shades San Diego carries a wide range of real and faux wood blinds, so call us today for your free consultation appointment. Our representatives will be happy to provide you with the best custom made solutions in town!