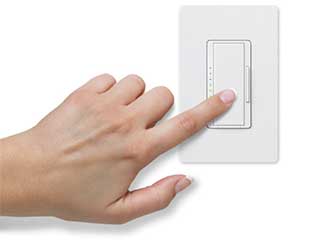 Getting automatic window coverings for your residence or commercial property can improve it in multiple ways. First and foremost, décor. The elegance and aesthetic of Lutron shades offer a sophisticated look without needless extravagance. Of course, motorized window shades offer more than just appearance enhancers. Lutron shades in your San Diego property can help with energy efficiency and temperature control, letting you utilize sunlight to the most optimal degree. You can choose from different designs to complement different rooms, as well as different features like Wi-Fi Lutron shades with dimmers, wall switches, and smartphone connections. Completely custom made to your needs, motorized Lutron shades have something to offer every home or business.
Sheer Motorized Smart Shades – Sunlight Diffusion
A great way to put Lutron shades to work is to use sheer variations to let in sunlight without glare. Perfect for dining rooms, kitchens, and all sorts of other spaces, sheer Lutron window shades let you optimize the way sunlight enters your property. Sheer shades diffuse light and soften it, so you reduce glare and block UV rays. This prevents wallpaper and furniture from fading and eliminates glare off TV or computer screens. Sheer motorized shades by Lutron let you enjoy the smart window covering solutions throughout the day. Even in peak summer with the blazing sun reigning high in the sky, sheer Lutron shades will help you create a cool indoor ambiance while still making the most of natural lighting.
Blackout Lutron Shades – Better Privacy
For office spaces, bedrooms, and other areas where you want to darken the room completely, blackout window shades work great. Room darkening Lutron shades provide an excellent choice for bedrooms in particular. You can use these smart, automatic window coverings to fall asleep and stay asleep with ease. Blackout Lutron shades prevent light from coming through even when it's fully bright outside. That also translates to privacy enhancement. Motorized blackout Lutron shades in your San Diego office, for example, will create a completely private room with the push of a button. You can benefit from Lutron's different shade opacity variations to choose the best solution for any piece of property.
Smart Lutron Shades On San Diego Windows – Home or Business
With the innovative technology of motorized Lutron shades, you can use sunlight to your benefit. Automatic brightness sensors or temperature factors can influence the motorized window coverings according to the parameters you decide on. Custom made Lutron shades with smart sensors give you automation of the future, today. The motorized window shades can work for you, always maintaining the desired temperature and light levels at any given hour. For more information on Lutron shades, book a free estimate with our San Diego motorized window treatment specialists.