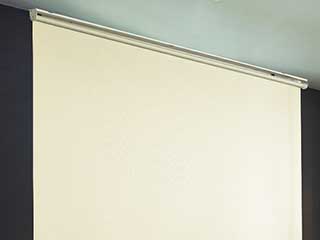 A popular option for window coverings is motorized roller shades and it's easy to know why. They offer great convenience and efficiency that many people wouldn't want to be without. If you are deciding whether or not this type of window covering is for you, keep reading and learn about some of the great advantages they offer.
Convenient And Easy To Use

Convenience is a factor in our lives that shouldn't stop with window treatment. There really isn't much more of a convenient and easy option for window coverings like motorized roller shades. Without the use of pesky chords, these can simply be operated easily with the push of a button. No need to get up, you can stay in your seat and achieve the desired light and privacy levels from across the room! Making life a little easier can make a big difference, so why not start with your shades?

Timer For Increased Protection

Most of us can't be around all day to set our blinds effectively at different times to block the light. This can negatively impact energy conservation and the furniture that gets hit with the UV rays as well. However, when you have motorized roller shades you don't have to worry about things like that any longer! They simply can be set on a timer so no matter the time of day you can be sure that the shades are working properly, blocking harmful light and protecting your furniture. The appearance of shades moving up and down throughout the day also adds a bit of a security factor to them as well. People will think someone is home and this can be helpful in deterring burglars and prying eyes.

Friendly For Small Children And Pets

If you are a parent or pet owner, then you know just how many things can become hazardous with them around. One advantage that many people with children and pets love is the fact that, with motorized roller shades, there are no chords or strings that hang down to worry about. This makes them very safe giving you peace of mind that, when you're in the other room, you know your kids and animals will be ok should they be messing around by the windows.