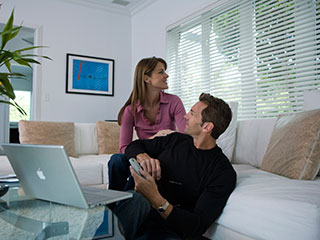 With the new age of technology rapidly expanding, more and more innovations have sprouted up through the years. Motorized blinds have become one of the most popular choices for window coverings in San Diego and all over the states, really. Blinds with remote control can flaunt the same elegance and aesthetics of manual shades and shutters. However, motorized blinds offer a simple and fast operation that you don't even have to be in the room for. Many households and businesses all over California utilize motorized blinds for their efficiency and high-tech performance. With a free consultation, you can see all available options and decide what features work best for you.
What Window Blinds To Motorize
The choice, in the end, is up to you. With the latest technologies, pretty much all types of window treatments can sport motors and Wi-Fi remote control features. You can choose motorized vertical blinds to cover window walls in office spaces or sliding glass patio doors in your San Diego home. From faux wood vanes to motorized window shutters with rolling sheets, you can choose any sort of blinds to motorize. This includes blackout blinds for bedroom windows that help provide improved sleeping conditions and privacy. Our selection provides a suitable choice for every property. From aluminum blinds to vinyl, PVC, and other options.
Motorized Window Shades
Of course, blinds aren't the only option. From Roman shades to blackout curtains, motorized window coverings can use soft fabrics to cover small or large surface areas and add various sunlight filtering features to the room. Sheer roller shades with remote controls add sunlight diffusion to the room. This lets you utilize natural lighting and save money on energy, as well as improve the indoor atmosphere. Light-diffusing motorized window shades also reduce glare off TV and computer screens. This makes them excellent motorized blinds for San Diego office spaces and other businesses as well.
Motorized Blinds Power Sources
Thinking about the unaesthetic nature of wired electric blinds? Well, those aren't the only option. With wireless battery-powered motorized blinds, you can eliminate the need for running wires or cables inside the wall or on it. For an even greener eco-friendly window covering solution, you can also go with the energy harnessing route. What do we mean? Solar-powered motorized blinds! That's right. These solar window blinds use power from the sun to power their motors. The addition of motorized window blinds with solar power reduces your carbon footprint and, over time, ends up costing less.
Remote Control Blinds For The San Diego Area
Whether you live or work nearby, you can start with a free estimate from our experienced motorized blinds installers. We service all local areas, offering in-person consultations for free on custom made motorized window blinds for homes, businesses, and other properties. Talk to our professionals to discuss different features, designs, materials, and more. Call anytime and get the best bargain on custom motorized blinds for windows near you!