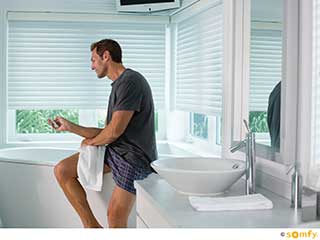 With the innovative features of motorized blinds, Somfy remote control window coverings offer your property the best solutions for décor and utility. You can utilize the wireless control of these automatic window treatments to better control energy efficiency and indoor climate with either the push of a button or even without it. Somfy blinds offer Wi-FI connectivity for smartphones, as well as completely smart systems that monitor themselves. Your home or business can benefit in tremendous ways from custom made motorized coverings for windows or skylights. Our local San Diego Somfy blinds installers offer customers completely custom made solutions at the lowest prices comparatively.
Somfy Remotes – Smart Blinds Controls
One of the best features of these automatic motorized window blinds is their ability to calibrate via different sensors. Want to maintain a certain level of warmth or cool inside a specific room. Smart Somfy blinds can operate in accordance with these parameters via temperature sensors. The same goes for natural light utilization. With brightness sensors, motorized Somfy blinds can ensure you always have pleasant illumination without direct glare, throughout the day. With the smart Somfy remotes, you can set schedules for motorized blinds to work on, or change parameters for light levels you allow in.
Motorized Window Covering With Somfy Features
You can pick different types of blinds to motorize with the latest technology. This offers you quite a variety of choices for different types of windows, glass walls, doors, and so on. Vertical Somfy blinds will provide a great choice for window walls in San Diego offices and alike. The larger size of wall windows tends to benefit from vertical blinds, especially with motors. For bedrooms or other spaces where you need privacy, motorized blackout blinds will work very well. Somfy blinds, blackout features added, can keep sunlight out even in the middle of the day. This makes for a great solution to allow for better sleep. And sleep, as a lot of new research can testify, is hugely important for our day to day wellbeing. You can also choose roller blinds, Somfy shutters for windows, and all sorts of other options perfect for different décors and designs.
Custom Somfy Blinds For Your San Diego Property
Smart motorized window treatments offer one of the most popular choices when it comes to blinds. Somfy remotes have become famous for their fantastic features and reliability. And with so many different variations, you can find something perfect for your budget and needs. Find out more about Somfy blinds from nearby San Diego smart window treatment experts by scheduling a free estimate appointment.