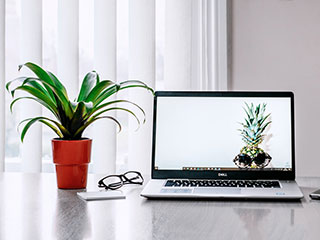 For windows of larger size or things like window walls and glass doors, vertical blinds often provide the best covering solutions. With larger surfaces, you need blinds that don't consist of regular type vanes. The reason being that the vanes begin to bend at the center when the frame increases beyond a certain size. However, with vertical blinds, this doesn't occur, due to the vertical build. As the local source for blinds in San Diego, we offer customers all sorts of vertical window treatments for their homes and businesses. From covering window walls of your shop to the patio door of your home, our custom made vertical blinds can meet all your needs.
Why Choose Vertical Blinds
To get the most efficiency out of window treatments, you want them to suit the area they're covering perfectly. Vertical blinds work better on window walls and glass doors than other types of coverings with vanes. Using vertical blinds to cover window walls in your San Diego office space will provide a more aesthetic and functional way to deal with sunlight. You can get vertical blinds in all sorts of colors to go with the interior décor. Therefore, you won't compromise on aesthetics with vertical window treatments, and can even create combinations. Many choose to get vertical blinds with curtains, for more versatility and a unique aesthetic. The options remain very diverse, especially with vinyl and aluminum blinds. You can customize the vertical window treatments we make in a variety of ways. From color patterns and designs to all sorts of style combinations.
Motorized Vertical Blinds With Remotes
Many people choose to enhance the vertical blinds we make for them with motors and remote control features. This type of benefit really comes in handy with large windows and glass walls. The bigger the frame, the more you have to work to draw the blinds manually. However, with motorized vertical blinds, that effort becomes nonexistent. You push the button and your automatic vertical blinds move across the window to reveal or cover it, according to your input. You can also get vertical window treatments with motorized vanes for a world of variation in how much sunlight passes through. For optimal privacy, motorized vertical blinds make for one of the best options for large window walls.
Vertical Blinds For My San Diego Home?
Yes, while often seen in office spaces, vertical blinds have plenty to offer residential properties as well. If you've got glass doors or window walls leading out to the patio, covering them with vertical blinds can offer you an excellent shading solution. Remember, vertical blinds provide optimal covering solutions for larger than average surface areas. This makes them excellent blinds for sliding glass doors and other types of windows with long width ranges. With the variety of designs available and different blinds motorization features you can choose, vertical window treatments can offer your San Diego apartment or house an excellent addition. Want to learn more about the different options and combinations? Schedule a free estimate on custom made vertical blinds, provided by our local experts!