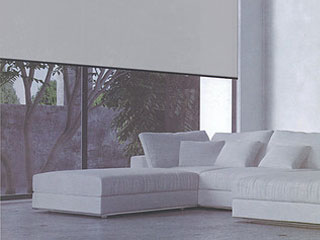 If you're interested in shades that will be able to easily match the décor and colors already present in a room while not drawing attention away from the rest, roller shades are a perfect choice. Their simple, strong shape won't overwhelm and will get the job done!
Endlessly Customizable For Your Needs
Is your daughter's room purple, your bedroom black and white, and the living room a quiet green? It's time to get shades that can be made to fit each room with ease with roller shades! Using our free consultation and color samples, you'll be able to easily find the right color, pattern, and texture of cloth for the shades of every room in your home. This way, they'll all be excellently accented while also protecting furniture, reducing glare, and more! There are also options for blackout and sheer depending on how much or little natural light you want, and how thoroughly you want to keep your home from heating up.
Can Essentially Disappear As Needed
One of the many benefits of roller shades is how they can easily roll up compared to some other types of window treatments. Drapery will always be present, Roman shades will still draw the eye over the windows even when fully opened, but roller shades tuck up neatly so one can hardly notice them. This makes them a wonderful fit for homes with ornate, large windows that deserve to be seen, or ones with amazing views that you want to take in unfettered.
Low Maintenance And Easy To Clean
Due to the simplicity of these shades, they're also some of the best when it comes to maintenance and cleaning! They tend not to draw dust to require frequent cleanings, unlike some other styles with multiple parts and spots for debris to collect on.
Schedule An Appointment Today
It's time to spruce up your home in no time and get brand-new shades that will look fantastic in every room. Just contact Motorized Blinds & Shades San Diego today for more information. You'll be glad you did!