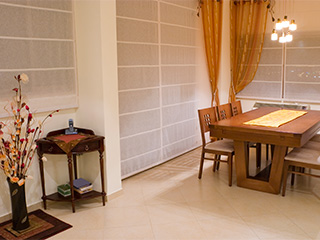 Roman shades are designed to stack up evenly when open and have smooth panels that do not appear bumpy when the shades are down. They are ideal for blocking out the sun during the day and providing privacy at night. This style of blind is perfect for rooms with a modern theme. The shades are lifted and let down using a simple cord that is incredibly user-friendly. Whether they are family or guests, everyone will be able to use these shades safely and easily.
Why Choose Roman Shades
Roman shades are designed to open and close evenly. This makes them beautifully smooth to use and will be highly beneficial in any room that receives a lot of sun during the day or disruptive light at night. The shade can be set at varying levels which enables you to have control over the light and heat coverage. If you appreciate simple design, smooth functionality, and attractive simplicity, this style of shade is hard to beat.
Have Yours Custom Made
We can cut roman shades into the exact dimensions you need. Simply provide us with the size of the window you have to cover and we'll make sure the shade is the perfect size. Our shades are made from versatile fabrics that will blend well with almost any interior theme. Unsure if you this style is right for you? We have a dedicated team of design experts that can conduct an in-home consultation for you. Once we've seen your windows and decor, we'll be able to suggest blinds that we think will match your interior perfectly!
Contact Us For More Help
If you need any further help or information on any of our stocked designs, get in touch with our customer service team for answers and expert advice.