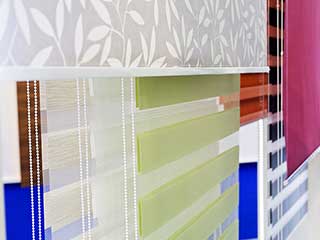 All too often, you'll hear people talking about blinds and shades as if they were the same thing. It's true that there is some overlap between the two, and that some types of "shades" could just as easily be called blinds. However, blinds and shades have different perks, which is the reason why the two words have different meanings.
Shades Move And Blinds Tilt
To be general, shades are flexible, contiguous sheets of material that move open and closed across the window, while blinds are systems of rigid panels that can rotate or tilt in place to cover more or less of the space between one another. If they are made of a flexible material and moves up and down or side to side as a whole, they are shades. If they are made of inflexible strips that turn in place to open and close the intervening gaps, they are blinds. It can be helpful to think of them as "soft" and "hard" window treatments, respectively, but there are exceptions to that rule.
Which Is Better?
There are two major factors when it comes to deciding between blinds and shades. The first is aesthetic; which of the two best complements the room and fits the atmosphere you want to create? The second is whether you care more about sunlight control or privacy. Blinds give you unmatched control over the amount of light that comes in through the window between each slat, but by that same token someone outside could potentially see between them unless they're angled very carefully (which the sun doesn't always grant). Shades, meanwhile allow a certain amount of light to penetrate them in the closed position while blocking the view from outside.
Some Hybrid Styles
Where this dichotomy breaks down is in window features that include both blind and shade elements. For instance, Venetian blinds are flexible layers that slide open and shut, but are also made of slats that can rotate in place. Some styles of Roman shades have semi-rotating backing panels that work more blinds. Overall however, the difference lays is whether or not they have individual pieces that move aside to let sunlight in.
Keep reading our blog posts to learn more about the different types of window treatments, or call us today to have your own custom-made.