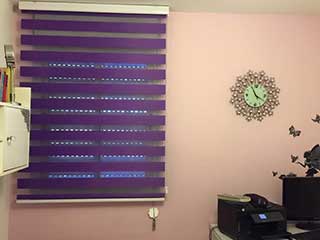 When it comes to window treatments, as far as designs go, there's a lot of variety. Perhaps one of the most versatile and unique-looking options are layered shades, with their zebra-like stripes that allows them to create a unique sun-utilizing décor. These coverings make for an excellent additions to anything from kitchens to living rooms and office spaces. They allow the user to determine exactly how much sunlight exposure and privacy they desire, and to adjust either variable at will.
A Unique Build
Layered shades consist of two layers of material with alternating stripes of opaque and sheer colors. When the slats face their matching-color counterpart, they allow sunlight to filter through, with the sheer stripes diffusing it to reduce glare and provide some UV protection. When the sheer slats face the opaque ones, sunlight is blocked and privacy is achieved. You can easily adjust layered shades to choose the amount of filtered sunlight and privacy that suits the ambiance you're trying to create.
Beauty and Utility
Layered shades are often preferred for their combination of style and function. Apart from looking great and enhancing the room's décor with their fashionable stripped look, they also serve a very important purpose, shielding you from harsh sunlight whenever you choose. Their easily adjustable function allows you to control natural lighting with minimal effort, while also enhancing the look and feel of the room simultaneously.
Consider The Motorized Option
Like many other window coverings, layered shades can be motorized. That means you'll have complete control over sunlight and ambiance with the push of a button, or with the touch of a smartphone screen. With Somfy and Lutron control systems, you can even have it so your layered shades self-adjust according to the room's brightness or temperature levels. You can even integrate your motorized layered shades with your smart home system and control them using voice commands.
The Natural and Unique Look
It's hard to beat layered shades when it comes to utilizing both functionality and design. These coverings really are the complete package, and their versatility (a range of different colors and textures you can choose from) makes them an excellent treatment for practically any window. For more information, contact Motorized Blinds & Shades San Diego and have one of our local experts come over and provide all the guidance you need via a free consultation appointment.